The Guitar Boutique
Regular price
$320.00 USD
Regular price
Sale price
$320.00 USD
Unit price
per
Sale
Sold out
DM16
The compact DM16 honours your stage or studio desktop space, while providing incredible sonic performance, amazing versatility – and an unheard of level of affordability.
What is the secret behind DM16's superb, studio-quality sound? The DM16 features 12 award-winning, MIDAS microphone preamplifiers with true +48 V Phantom Power, acclaimed by audio engineers the world over for their transparency and nuanced low noise, high-headroom design. Add to this TRS Line Inputs on all 16 channels (8 mono and 2 stereo), mono channel Inserts and 3-band EQ with mid-frequency sweep, 2 switchable pre/post-fader aux sends, 2 monitor outs and 2-track RCA I/O, and you have an analogue work of art – the fully featured DM16!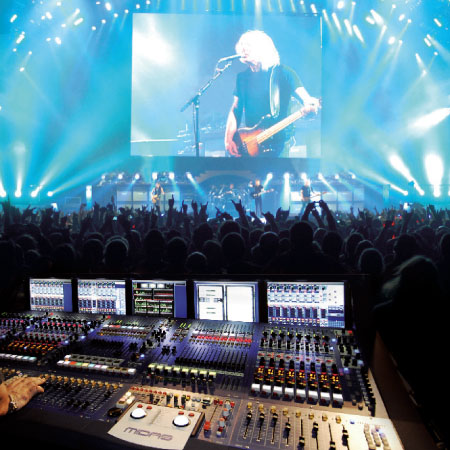 Live Performance and Studio Recording
With 16 channels, the DM16 has more than enough microphone and line inputs to manage a small band or worship team with channels to spare – both on the stage and in the studio. It is also the ideal choice for use as a keyboard or drum sub-mixer for larger scale performances.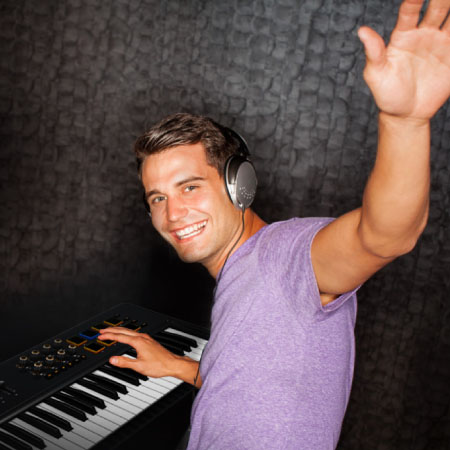 Dedicated Stereo Inputs
Line channels 13/14 - 15/16 are dedicated stereo channels, making them ideal for stereo instruments, such as keyboards – and can also be used for mono signals thanks to a convenient balance control on each 2-channel grouping. These channels can also be used as return inputs for signals sent external effects processing equipment.
Mono Inputs
| | |
| --- | --- |
| Mic inputs (MIDAS mic preamp) | 12 |
| Type | XLR, balanced |
| Mic EIN @ 60 dB gain, 50 ? source at insert send | -131 dBu, unweighted, 20 Hz to 20 kHz |
| Mic EIN @ 60 dB gain, 150 ? source at insert send | -128 dBu, unweighted, 20 Hz to 20 kHz |
| Noise @ 10dB Gain, at insert send | -97 dBu, unweighted, 20 Hz to 20 kHz |
| Frequency response (-1 dB) at main output | 20 Hz to 20 kHz (-1 dB) |
| Frequency response (-3 dB) at main output | 70 kHz (-3 dB) |
| Mic Gain range | +10 dB to +60 dB |
| Max. input level | +11 dBu @ +10 dB gain |
| CMRR @ +60dB gain | Typically -90 dB |
| Impedance | 2 kO, balanced |
| Distortion (THD+N) at 0 dBu | 0.005% @ 1kHz |
| Phantom power | Switchable, +48 V |
Line Input
| | |
| --- | --- |
| Type | ¼" TRS, balanced |
| Impedance | 20 kO balanced / unbalanced |
| Line Gain range | -10 dB to +40 dB |
| Max. input level | +30 dBu |
Stereo Inputs
| | |
| --- | --- |
| Type | 4 x ¼" TRS connector, balanced |
| Impedance | 20 kO balanced / unbalanced |
| Gain range | -20 dB to +20 dB |
| Max. input level | +21 dBu |
Equaliser
| | |
| --- | --- |
| Low | ±15 dB @ 80 Hz, shelving |
| Mid (mono inputs only) | ±15 dB @ 150 Hz to 3.5 kHz, variable semi-parametric |
| High | ±15 dB @ 12 kHz, shelving |
Channel Inserts
| | |
| --- | --- |
| Type | ¼" TRS connector, unbalanced |
| Max. input / output level | +21 dBu |
Aux Sends
| | |
| --- | --- |
| Type | 2 x ¼" TRS connector, balanced |
| Impedance | 240 O balanced, 120 O unbalanced |
| Max. output level | +21 dBu |
Monitor Out
| | |
| --- | --- |
| Type | 2 x ¼" TRS connector, balanced |
| Impedance | 240 O balanced, 120 O unbalanced |
| Max. output level | +21 dBu |
Main Out
| | |
| --- | --- |
| Type | 2 x XLR, electronically balanced |
| Impedance | 100 O balanced, 50 O unbalanced |
| Max. output level | +21 dBu |
Main Out Inserts
| | |
| --- | --- |
| Type | 2 x ¼" TRS connector, unbalanced |
| Max. input / output level | +21 dBu |
Phones Output
| | |
| --- | --- |
| Type | ¼" TRS connector, unbalanced |
| Impedance | 25 O |
| Max. output level | +21 dBu |
2-Track Input
| | |
| --- | --- |
| Type | 2 x RCA, unbalanced |
| Impedance | 20 kO |
| Max. input level | +21 dBu |
Record Out
| | |
| --- | --- |
| Type | 2 x RCA, unbalanced |
| Impedance | 1 kO |
| Max. output level | +21 dBu |
Main Mix System Noise
| | |
| --- | --- |
| Main mix @ -?, channel fader @ -? | -104 dBu, unweighted, 20 Hz to 20 kHz |
| Main mix @ 0 dB, channel fader @ -? | -91 dBu, unweighted, 20 Hz to 20 kHz |
| Main mix @ 0 dB, channel fader @ 0 dB | -84 dBu, unweighted, 20 Hz to 20 kHz |
Power Supply / Voltage (Fuses)
| | |
| --- | --- |
| Switch mode power supply | 100-240 V~ 50/60 Hz, switchable (T 1.6 A H 250 V) |
| Power consumption | 40 W |
| Mains connection | Standard IEC receptacle |
Dimensions / Weight
| | |
| --- | --- |
| Dimensions (H x W x D) | 95 x 438 x 370 mm (3.7 x 17.2 x 14.6") |
| Weight | 5 kg (2.3 lbs) |
View full details